▶ Story
2. The Tortoise and the Baboon
개코 원숭이가 거북이를 만나 저녁식사에 초대를 했어요.
느린 거북이는 열심히 갔지만 개코 원숭이 집에 도착했을 땐 이미 개코 원숭이가 밥을 다 먹어버린 후였어요.
화가 난 거북이는 개코 원숭이를 속이기로 하는데… 과연 거북이는 개코 원숭이를 어떻게 골탕 먹일 수 있을까요?
▶ 시리즈 소개
OXFORD Snapdragons 시리즈는 Oxford Reading Tree 시리즈 중 하나로 각 단계별로 자연스럽게 연결시켜 확장된 리딩을 할 수 있도록 만들어 줍니다. 재미있는 스토리와 Science Fiction, 전래동화 등 다양한 주제로 구성되어 있으며, 세계 곳곳의 이야기와 다문화를 듣고 배우면서 언어의 가치를 높여주는 Real Picture Books입니다. 1단계부터 10단계까지 총 10개의 레벨로 구성이 되어있고 각각의 레벨에는 6권의 스토리가 있어 총 60권의 책이 있습니다.
▶ Level 4 학습문제
조금 길어진 재미있는 스토리 리스닝과 리딩 후 풀어볼 수 있는 학습문제를 8페이지 제공하고 있습니다.
본문에서 나온 Vocabulary와 단어 매칭 학습, 심화 된 파닉스 혹은 rhyming words와 다양한 activity를 통해 지루하지 않게 학습을 할 수 있고, Listening학습과 Reading Comprehension을 통한 본문 이해도뿐 아니라, story map을 통해 내용의 흐름을 이해하기 쉽게 구성이 되어 있습니다.
▶ 미리보기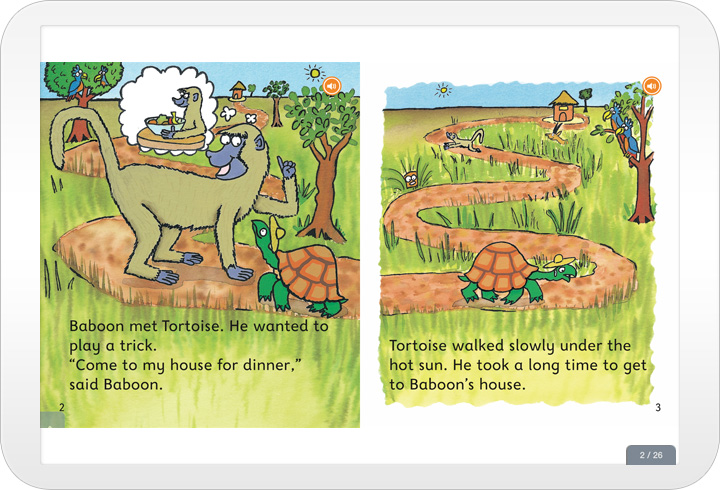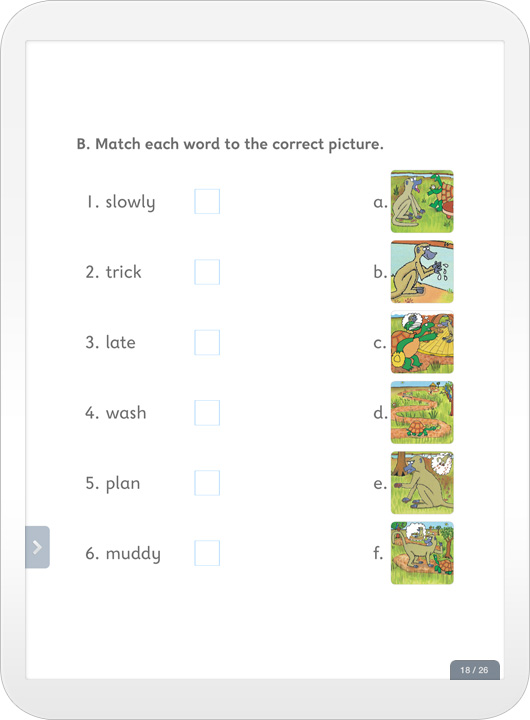 맨위로